Miracle in Los Angeles
Blessed Virgin Mary Appears Enshrouded in Light in Front of Vassula Ryden during a Talk She Gave in January
January 18, 2009. First day of the "Week of Prayer for Christian Unity" participated by all major Christian Churches worldwide. Also, the birthday of Vassula Ryden - who for more than 23 years has been receiving genuine Messages from Jesus Christ.
Her Mission, as Jesus has instructed her ... "Revive My House, Embellish My House, Unite My House." and to tell the world all that He has to say.
She has, since the beginning of her call and conversion in 1985, been invited to speak at almost 900 meetings in 73 coutries and 6 conitinents. Here, in these photos, she is speaking at one such a meeting in Los Angeles, California, USA to about 500 people who came to hear the miracluous story and to find out for themseleves what Jesus is telling the world TODAY.
Signs and Miracles have always accompanied Vassula's mission and meetings. Some small. Some large. Some seen by some. Some seen by all. On this occasion, as I will show you in the following photos, the Blessed Virgin Mary appeared in front of Vassula during her talk and illuminated the entire room ... and that's not all.
http://pilgrimage-travel.com/vassula_birthday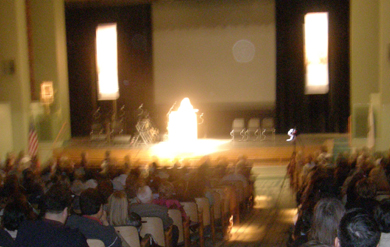 Blessed Virgin Mary appears in front of Vassula
"I saw a very thick and beautiful golden aura around her when she was speaking to us and a very bright golden light behind her. On one occasion, I saw the Virgin Mary to her right and three times I saw the Virgin with a golden veil and a light golden facial complexion to Vassula's left side in front of her."
Posted by holybodymindandsoul at 11:19 AM EDT
Updated: Thursday, 26 August 2010 2:30 PM EDT